Will Gilbert
Another crazy TRFC campaign has been drawn to a close, what a season it was! From start to finish, from Stevenage to Crawley, from Oxford City to Tottenham, it was a fantastic season!
Let's have a quick look at the overall figures:
League performance – 6th.
The Whites landed in 6th position after another fantastic season, with 73 points following 20 wins, 13 draws and 13 losses.
Domestic CUP competitions:
Results:
Crewe (h)- 4-3 defeat
Shrewsbury (a)- 6-0 defeat
Man City U21s (h)- 1-0 defeat
Results:
Results:
Oxford City (h)- 3-3 draw
Oxford City (a)- 2-0 win
Southport (h)- 1-1 draw
Southport (a)- 2-0 win
Tottenham (h)- 7-0 defeat
This season saw Micky Mellon's men in white navigate themselves out of the 4th tier at the first time of asking, something that isn't done all that often. The goals from now Ipswich striker, James Norwood, the dominant defensive performances from the mountain Manny Monthe and the phenomenal saves from the superb Scott Davies have all been key catalysts in Rovers' success this season. Tranmere went into this season on the back of promotion from the National League and a summer in which we lost prolific striker Andy Cook- a lot of supporters of Rovers and other clubs alike had the Whites down for a quiet season, who could blame them?
The League Season
August: Tranmere's EFL return.
Stevenage (a) 2-2
Cheltenham (h) 1-0 win
Walsall (h) 3-1 defeat (Cup)
Swindon (a) 3-2 defeat
Mansfield (h) 0-0
Port Vale (h) 1-0 win
Tranmere's first EFL game, after a 3-year absence, came away at Stevenage back in August. A James Norwood brace helped inspire Rovers to their first point in the EFL since April 2015, which coincidentally was also a 2-2 draw away at Stevenage. This was quickly followed by a victory over a lacklustre Cheltenham side, a quick exit following defeat in the League Cup to Walsall and a 3-2 defeat to Swindon – a result which a newly promoted side shouldn't be too disappointed in. However, Jay Harris' martial arts like kick led to us playing with 10 men for 70+ minutes and frustratingly throwing away a 2 goal lead. Rovers' opening month back in the EFL came to an end with 2 home games, a tense 0-0 stalemate with Mansfield and a 1-0 victory over Port Vale, thanks to James Norwood.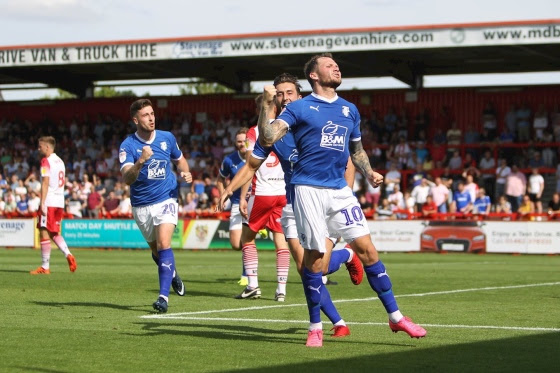 September: Consolidating our position.
Northampton (a) 1-1
Crewe (h) 4-3 defeat (Cup)
Colchester (h) 1-1
Carlisle (a) 2-0 win
Newport (h) 1-0 defeat
MK Dons (a) 1-1
In the month of September, Rovers began by gaining a respectable point away at fellow League 2 newcomers, Northampton. James Norwood struck gold again in a 1-1 draw at Sixfields. This was followed by a Checkatrade Trophy defeat to Crewe, a 1-1 stalemate with Colchester and one of the best away days of the season, Carlisle. In Tranmere's first away victory back in the EFL, our first since Cambridge in March 2015. A scintillating performance and penalty save from Scott Davies could be argued to have been the trigger that got our success kickstarted in England's 4th tier. Jake Caprice's dipping cross forced an own goal out of Tom Parkes shortly before Paul Mullin struck with a fantastic curling shot which nestled into the bottom corner, his first goal for the club after arriving from Swindon in the summer. Rovers' first away win of the season was followed by our first home defeat, a 1-0 frustrating defeat against Newport. The month concluded with a 1-1 draw at Stadium MK. Rovers sat 15th in the league table at the end of September.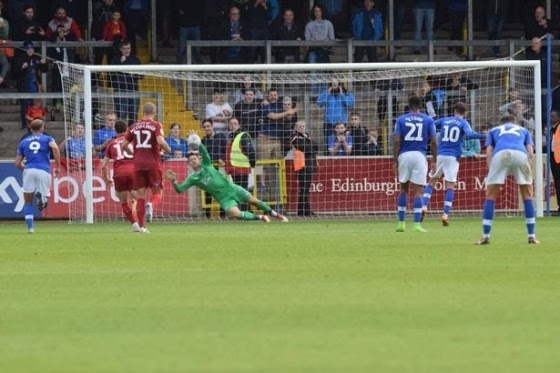 October: The month of Gilmour
Lincoln (h) 1-0 win
Morecambe (a) 4-3 win
Shrewsbury (a) 6-0 defeat (Cup)
Macclesfield (h) 1-0 win
Yeovil (a) 0-0
Forest Green (a) 3-1 defeat
Crawley (h) 5-1 win
Man City U21s (h) 1-0 defeat
The month of October saw Rovers rise to the highest position the club stood at all season, an impressive 4th place. The month opened with an early clash with former National League title foes Lincoln, Rovers struggled in the first half. However, the introduction of Harvey Gilmour at half time tipped the game on its head, he was pivotal in helping Rovers earn the 3 points. In the next game, Harvey scored again- twice! This time away at Morecambe in a 4-3 victory in which Rovers fell behind, gained a 2 goal cushion, threw away said cushion before winning it in injury time, thanks to the then Sheffield United loanee – this game will be fondly remembered by many for years to come. A 6-0 drubbing for a fully rotated 11 at the hands of Shrewsbury in the Checkatrade followed. Friday night football made a return to PP shortly after, Rovers squared off against Macclesfield. Tranmere saw off the Silkmen in front of a then highest attendance of the season thanks to another impressive strike from Harvey Gilmour. A stale, dull 0-0 draw with Yeovil followed, this wouldn't be our only dull game with the Glovers. Our form hit a brick wall the Tuesday after, a 3-1 defeat to Forest Green. This, a repeat of the play off final scoreline from 2017, saw the Whites' 5 league game unbeaten run come to an end. Our final league game of October saw us wipe the floor with Crawley in a 5-1 demolition job on the Red Devils. James Norwood struck twice, Connor Jennings also claimed his first goal of the campaign in an impressive performance from the former Wrexham captain. Paul Mullin also appeared on the score sheet, along with Adam Buxton who converted from the penalty spot, denying Norwood the chance to score his first Tranmere hat-trick. Rovers lost their final game of the month 1-0 to Man City U21s, this drew an end to our Checkatrade Trophy campaign.
November: Our form shakes.
Exeter (h) 2-0 win
Oxford City (h) 3-3
Crewe (a) 3-2 defeat
Oxford City (a) 2-0 win
Oldham (h) 1-1
Grimsby (a) 5-2 defeat
The 11th month of the year and the 4th month of the football season kicked off with a convincing victory over fellow promotion hopers, Exeter. James Norwood struck twice against his former side in a comfortable and convincing victory over what was then a top side in the division. The form fell off a small cliff after that game, we struggled to get the job done against National League South side Oxford City- Kabongo Tshimanga scored a hat-trick for the Hoops in a 6 goal thriller at PP, James Norwood's 89th-minute equaliser saving us from a cup upset. The next week, over 1600 members of the SWA made the short journey to Gresty Road, one of many incredible away followings our fantastic supporters boasted last season. Unfortunately, this game ended in a 3-2 defeat for the Whites. A few days later we travelled down to Oxford City for the FA Cup first round replay, we finally saw off the 6th tier side in a comfortable 2-0 victory at Marsh Lane. Tranmere then welcomed rivals Oldham to PP in a game we were eager to win, it was important both to get back in good form and get one over on Ollie Banks' former side. The spoils were shared between the 2 clubs in a 1-1 draw, it was great to see a good following in the Cowshed following 3 seasons in a division where teams rarely brought substantial away support. The final game of a fairly uninspiring month was a below-par heavy defeat at the hands of Grimsby. Tranmere were easily beaten 5-2, after Norwood gave us the lead, by a much better side on the night.
December: More FA Cup shakes.
Southport (h) 1-1 (Cup)
Cambridge (h) 1-0 win
Notts County (a) 3-2 defeat
Southport (a) 2-0 win (Cup)
Bury (a) 2-1 defeat
Morecambe (h) 3-1 win
Yeovil (h) 0-0
The final month of 2018 kicked off with an FA Cup 2nd round tie against local opposition in Southport. A 1-1 draw at PP was a disappointing result, the second time we'd failed to beat a side 2 divisions lower than ourselves in the FA Cup in 3 weeks. A solid 1-0 victory over struggling Cambridge followed, James Norwood tapped in his 15th league goal of the season to end Rovers' sticky spell in the league. In our next outing, on the road at Notts County, we suffered a 3-2 defeat. Rovers equalised twice but were ultimately held off by the Magpies. In the FA Cup 2nd round replay away at Southport, Connor Jennings was on the scoresheet twice to help earn Rovers a big money 3rd round tie against English giants Tottenham. The Whites' poor league away form continued in our final game before Christmas, a 2-1 defeat at Gigg Lane against fellow promotion hopefuls, Bury. Rovers bounced back from this defeat with a Boxing Day victory over Morecambe, James Norwood was on the scoresheet- again! Cole Stockton and Jay Harris also made rare appearances on the scoresheet. Rovers' final game of 2018 was a 0-0 draw at home to Yeovil, our second 0-0 draw with them of the season.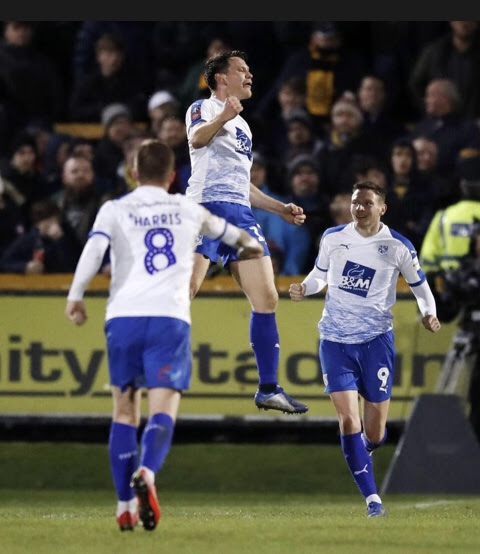 January: A new year
Macclesfield (a) 1-1
Tottenham (h) 7-0 defeat
Cheltenham (a) 3-1 win
Swindon (h) 2-1 defeat
Mansfield (a) 3-0 defeat
Tranmere's first game of the year was an away tie against Macclesfield. This was the 3rd time we've opened up our year against the Silkmen, the other occasions came in the 15-16 season and the 16-17 season, we lost both of them. This time was a 1-1 draw. 3 days later, we faced Premier League opposition in a competitive game for the first time since Swansea in 2015. A 7-0 demolition at the hands of Spurs ended our FA Cup journey. Rovers bounced back with a convincing 3-1 victory away at Cheltenham, Ishmael Miller grabbing himself a debut day goal in the process. The final 2 games of January cast a spell of negativity on the SWA, after a 2-1 defeat at home to Swindon and a 3-0 battering away at Mansfield, a game which saw Ollie Banks get his marching orders, and which saw us fall to 10th place and 5 points away from the play offs.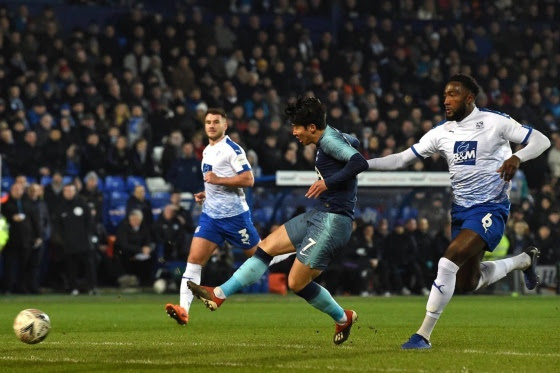 Before I continue this, it is absolutely necessary to give massive praise to the incredible signings brought in during the January transfer window. David Perkins, Ben Pringle, Kieron Morris, Sid Nelson, Ishmael Miller & Chris Dagnall. The recruitment by Micky in the winter window was season defining, without those brilliant signings we simply wouldn't have been promoted!
February: The beginning of something special.
Northampton (h) 2-1 defeat
Stevenage (h) 2-0 win
Cambridge (a) 0-0
Port Vale (a) 2-1 win
Notts County (h) 1-0 win
A 3rd defeat in a row opened up Tranmere's February, this would turn out to be our final defeat until April. Another lacklustre, flat performance saw us fall 2-1 at home to Northampton. Our next fixture saw us comfortably see off Stevenage in a 2-0 triumph, this meant the end of a 3 game losing streak and the beginning of a 9 game unbeaten run. A 0-0 stalemate at Cambridge and a 2-1 victory away at Port Vale saw us hit some form on the road. A Norwood brace earned 3 points at Vale Park. Rovers' last game of February featured a clash with bottom of the table Notts County, who had beaten us earlier in the season to claim only their 4th league victory. Connor Jennings grabbed the only goal of the encounter, leaving County with nothing to show for their considerable efforts at PP. Jennings came close to getting a second when his splendid strike was turned over the bar.
March: 5 out of 5.
Exeter (a) 1-0 win
Crewe (h) 1-0 win
Grimsby (h) 4-1 win
Colchester (a) 2-0 win
Carlisle (h) 3-0 win
The month of March, a month full of glorious victories for the Whites! March's 5 victories along with the 2 victories that concluded February put us on a stunning winning run of 7, this was our best run of form since February-March 1990 under the legendary Johnny King, a run which saw us win 9 league games in a row. The month kicked off with a convincing 1-0 victory at Exeter, Mark Ellis' long ball and James Norwood's deflected shot allowed Rovers to claim the double over the Grecians. A 1-0 victory over Crewe, on a Friday night, under the magic lights of PP ensued, James Norwood claiming his 26th goal of the season in the process. A 4-1 razing of Grimsby at home was next to expunge the memory of the reverse fixture, followed by a 2-0 win away at Colchester- a win which saw us sitting healthily in 5th in the league with a game in hand on rivals above and below. Following this was a 3-0 victory over play off outsiders Carlisle, Manny 'the Mountain' Monthe claimed his 2nd goal in 3 games as Rovers powered deeper into the play off places and were now in sight of the automatic spots.
April: The end of the streak.
Oldham (a) 2-0 defeat
Newport (a) 0-0
MK Dons (h) 2-1 win
Forest Green (h) 1-0 defeat
Lincoln (a) 0-0
Bury (h) 1-1
April opened up with an unfortunate 2-0 defeat at the hands of rivals Oldham ending our 7 game winning streak and crumbling our 9 game unbeaten run. A 0-0 stalemate against Newport and a credible triumph over MK Dons saw us prevent a downturn in form. A Good Friday meeting with Forest Green followed, this proved to be a crucial set-back in our push for automatic promotion. Forest Green handed us our first defeat at Prenton Park since early February. Two credible draws to close out the month then occurred: a 0-0 draw with champions elect Lincoln and a 1-1 draw with Bury, both of these games saw our opposition win promotion.
May: The End.
Crawley (a) 3-1 defeat
Forest Green (h) 1-0 win- PO1
Forest Green (a) 1-1- PO2
Newport (N) 1-0 win- POF
Our final league game commenced in May, a rotated squad fell to a 3-1 defeat at Crawley. It was now time for the play offs! For the third season in a row, Rovers had qualified for the privilege of the promotion lottery. This season we had to contest against Forest Green over 2 legs, the bogey side which had beaten us in the NL play off final two years ago and recently upset our home form in the league to quell our hopes of reaching the automatics. Goal line technology ruled Ollie Banks' thunderous strike to be over the line in a 1-0 victory in the first leg at PP. A win that in some ways felt like a lost opportunity given FGR played much of the tie with 10 men. 3 days later, we played our 2nd leg in Stroud – a 1-1 stalemate resulted in the Whites winning 2-1 on aggregate and earning a well deserved 3rd successive trip to Wembley.
The Big One:
May 25th 2019, a day that will be forever remembered by all of the SWA. We squared off against Newport in the Sky Bet League 2 Play Off Final. The stakes were huge- a place in League 1 was dangling above our head. After 119 minutes of nerve-racking, nail-bitingly intense football was played the new Wembley hero was crowned, Connor Jennings. Jennings glanced a header across the face of goal and headed the Whites into the lead with 1 minute left to play. Because of this, the following statement can be made:
Tranmere are back where they truly belong. Tranmere are a League 1 side. In the most dramatic style, Rovers journey was complete, we were promoted!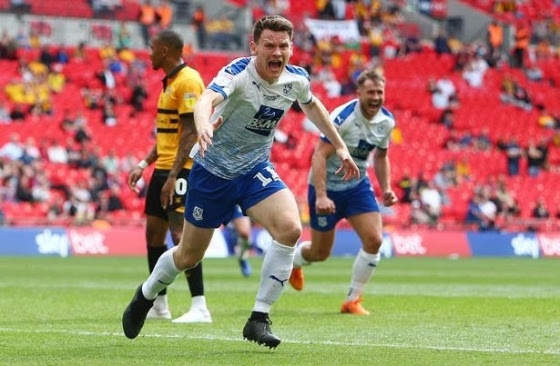 The SWA Perspective
I asked some members of the SWA a few questions about our astonishing season. Many thanks to those who answered!
Q1) What was your favourite moment of the season? (Excluding Jennings v Newport)
A: Gilmour goal away at Morecambe-Ethan Hoijord, Matt Hibbert, Andy Gilbert.
A: "Stevenage away", the return of the Rovers- we were back! – Martyn Corrin
A: Oldham away- "The support was unbelievable and it showed we were going to support the team no matter what"- Paul Harper
Q2) What was your favourite home game?
A: Crawley 5-1 win- "great performance and some great goals"- Paul Harper
A: Lincoln 1-0 win- "amazing to beat a side of that quality"- Ethan Hoijord
A: Carlisle 3-0 win- "our 7th straight win"- Matt Hibbert
Q3) What was your favourite away game?
A: Forest Green (play off)- Andy Gilbert
A: Cheltenham 3-1 win- Martyn Corrin: "We came out in the second half and put them to the sword and it felt like there was something to be excited about"
Q4) Who was your signing of the season?
Ethan Hoijord- Mark Ellis. "What he did for Meghan, a young disabled supporter, was top notch. Just like his performances"
Matt Hibbert- David Perkins. "The final piece of the puzzle"
Martyn Corrin- David Perkins. "He turned us from outsiders into a League 1 side"
Paul Harper- David Perkins. (Special mention to Jake Caprice) "He was our much needed experienced head in midfield and he ran the game from that role in the second half of the season"
Andy Gilbert- David Perkins. "The way he can pick out a pass is incredible. He's a very intelligent player who helped our promotion push"
Q5) What player in the squad are you most excited to see in League 1?
Andy Gilbert- Connor Jennings. "We've watched him rise through the leagues. He deserves to play in this league"
Matt Hibbert- Manny Monthe. "Definitely Manny, I think he's easily a League 1 player already"
Paul Harper- Liam Ridehalgh. "Having started with us in League 1, he has his chance again at that level. He deserves this opportunity"
Martyn Corrin- Connor Jennings. "He gets better as we do"
Ethan Hoijord- Corey Blackett-Taylor. "He's young with lots of pace and power and could become a fan favourite"
Thank you for reading and putting up with the length of this. Here's to more success in League 1!
SWA!